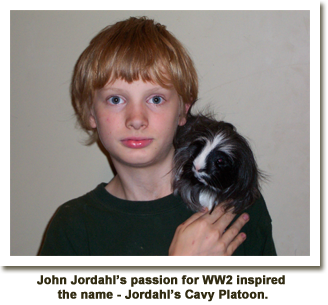 Teri Jordahl, has been breeding and showing cavies for 11 years. Her adventure with cavies began through her children's involvement in 4-H. The first two 2 cavies (AKA guinea pigs), were a Coronet sow and a Texel boar who had been in need of a new home when their 4-H owner could no longer keep them. One month later - at the Jordahl's second 4-H meeting, an older 4-Her, Deidre MacKimmie, arrived with a litter of cavy pups. Teri's daughter fell in love with Boo - a red and white American. Agreeing on a trade (the Texel boar for the American sow) the official Jordahl 4-H cavy project had begun with a Red/White Coronet sow and a Red/White American sow. Having 3 Jordahl children, however, another cavy was needed. The following May, at the Spring Fling 4-H Show, Deidre MacKimmie, assisted the Jordahl clan in purchasing not one, but 4 additional 'pigs' - a Black/White Coronet boar and a trio of Americans (consisting of a roan sow, a red sow, and a red boar). That first summer the cavies were bred and by fall the new enterprise had been increased by 15! Deidre, daughter Rosie, along with several of the older girls in the 4-H club, began showing in Open ARBA shows as well as 4-H shows. Teri became official chauffeur for all the kids wanting to participate in these events. One day, while relaxing at a show with some 4-H "rabbit moms", a parent began describing how easy it was to "get away with cheating in 4-H", but remarked that these techniques could get one kicked out of an ARBA Open show. That was when Teri decided it would be best for all concerned to find a more ethical crowd, so she ventured over to the Open Cavy Show in progress at the other end of the show room. That was when she became hooked on the hobby - buying show quality cavies, and learning all she could from other cavy breeders.

The youngest Jordahl son - John, a big World War 2 buff, is credited with naming the caviary. Each 4-H member could show up to 6 cavies at the local county fair, hence each child had a "squad" (6 men to a "squad" according to John). Since the caviary had grown to house about 110 cavies, that amounted to a platoon (100 men in a platoon). Whenever a 'piggie' was 'lost' in one of the squads, that kid went out to the platoon to pick a replacement! Since technically, all platoons are numbered (according to John), John's birth year - 1991, was tacked onto the caviary name to become Jordahl's 91st Cavy Platoon. The '91st' was dropped when the caviary was registered with the ACBA. Jordahl's Cavy Platoon became an ACBA registered caviary - #3873-09.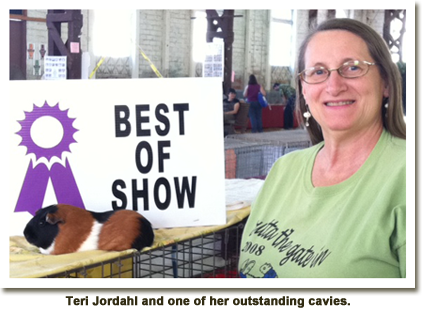 Over the years, Jordahl's Cavy Platoon has been home to 12 of the 13 recognized cavy breeds. At present, Teri currently breeds and exhibits 8 of the 13 breeds. These breeds include: American, American Satin, Coronet, Peruvian, Peruvian Satin, Silkie, Teddy, and Teddy Satin. Teri Jordahl has earned the Number One spot in the Oregon League of Rabbit and Cavy Breeders' annual Sweepstakes Contest in 2004, 2010, 2011, 2012, and 2013. She began attending ARBA National Conventions beginning in 2006 and has participated every year since then - usually showing 8 cavies every year. Besides earning many BOV's (Best of Variety) each year, Teri's cavies have been awarded the following titles: Best Opposite Sex of Breed (BOSB) with a Teddy Satin in 2006, BOSB American Satin in 2010, BOSB Teddy Satin 2010, and BOB Peruvian Satin also in 2010. In 2008 Teri attended her first American Cavy Breeders Assoc. National Show and has attended every year since (except 2009 - the year her 2 daughters married). She won Best of Breed (BOB) Peruvian Satin and BOSB Peruvian Satin in 2011, and BOB American Satin in 2010. She has also competed at the Oregon State Fair every year from 2003 to 2012 (with the exception of 2009) and has won Best in Show or Reserve in Show many years running and won both BIS and RIS in 2008 & 2012. Teri can be found at most shows held throughout Oregon and Washington State - her cavies winning many BOB, BIS and RIS awards over the last decade and into the present.
Teri holds membership in the following: American Rabbit Breeders Association, American Cavy Breeders Association, Oregon League of Rabbit and Cavy Breeders (currently serving as a director on the OLRCB Board of Directors), Oregon Cavy Breeders Society (serving as Vice President for several years and as an OCBS Club Representative on the OLRCB Board for 3 yrs), Left Coast Regional Cavy Club, Western Frontier Rabbit and Cavy Shows (a Show Circuit club founded in order to bring the ARBA National Convention to Portland, OR in 2015), Washington Cavy Fanciers, and the Central Oregon Rabbit Breeders Association.

All cavies produced at the Jordahl's Cavy Platoon caviary are healthy, and bred in compliance with the ARBA Standard of Perfection. ALL cavies (even pet quality), are pedigreed. Under circumstances where Teri purchases a cavy from a fellow breeder not accompanied with a pedigree, it may take some time to get a full 3 generation pedigree on subsequent descendants, but the goal is to provide a full, 3 generation pedigree with every cavy sold whenever possible. In 2013 Teri studied for and received her official ARBA Cavy Registrar's License - #CR97. She currently is working toward fulfilling requirements to obtain an ARBA Cavy Judge's license.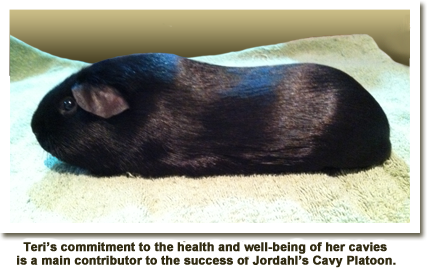 The health and well being of each and every cavy she raises is of paramount importance to Teri. In order to have optimum health, all cavies require Vitamin C be supplied in their diet. Unlike rabbits, cavies cannot synthesize the critical vitamin from the foods they eat. Like human beings, cavies need a constant source of Vitamin C. Rabbit pellets - though commonly fed to cavies, are not a source of the vitamin, so many cavy breeders supply Vitamin C as an additive in the drinking water as well as supplementation with vegetables and fruit. This can result in significant additional labor to change the water frequently and fresh produce can quickly become soiled and unsanitary. Commercial cavy rations containing Vitamin C are not always readily available and often the freshness (extremely important as Vitamin C does not have a long shelf life) of these formulations cannot be guaranteed. To solve this problem, Teri designed her own feed and has a local mill produce her proprietary formulation of "Jordahl Cavie" (so named by Union Mills - Teri's feed mill). Because this feed is not a USDA licensed food, it cannot be sold to the general public and is classified as "designer food" - produced solely for Jordahl's Cavy Platoon. Teri has been feeding "Jordahl Cavie" to her 'pigs' since 2008. The robust health and performance of her cavies is evidence of the high standards under which they are raised.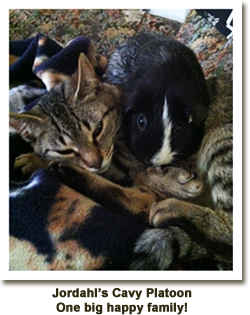 In addition to cavies, Teri raises Katahdin Hair Sheep for meat. She houses a Katahdin Hair Sheep ram and 2 purebred, registered Katahdin Hair Sheep ewes. (She also runs several wool sheep and wool/hair crossbreds.) On occasion, Teri offers breeding stock for sale, but in late summer or fall the focus is on the sale of 'Locker Lambs'. Hair Sheep meat is naturally leaner, without the "muttony" taste often prevalent in wool sheep. In comparison, Hair Sheep lambs have well-muscled carcasses and cutability with a mild flavor. The hanging weights of Teri's wool/hair lambs are slightly less than that of the wool lambs, but the meat is leaner and much better tasting.

As you may have guessed - Teri is a lover of animals! In addition to the cavies and sheep; 2 horses, 1 llama, 1 English Lop rabbit, 1 chinchilla, 2 barn (outside) cats, 2 inside cats and 1 dog make their home on the Jordahl homestead.